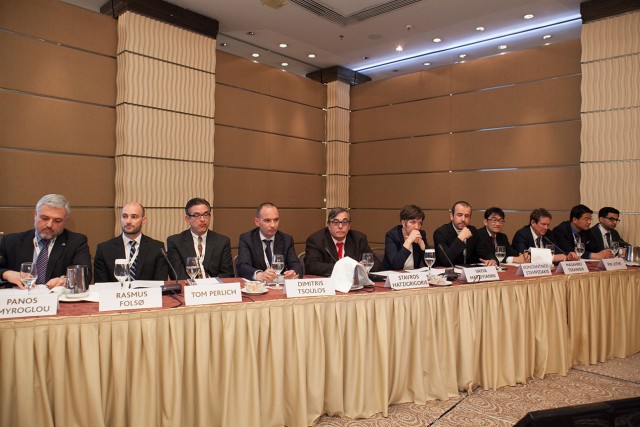 Some 500 delegates from 14 countries representing 228 companies spent over eight hours, March 31, at a summit in Athens, debating issues concerning ballast water management and at the end of a day "well spent" the event can be summed up in four words, "certainty, challenge, cost, confusion".
Held under the auspices of the influential Greek Marine Technical Manager Association, MARTECMA, and organised by Newsfront / Naftiliaki, the Ballast Water Management Summit, left little doubt there are still many challenges ahead.
As summit and MARTECMA chairman, Stavros Hatzigrigoris, noted "all engaged in the BWM exercise, from ship operators through class societies, flag administrations to equipment vendors, are certain BWM is here, it poses great challenges, it is costly and it is causing confusion".
From the outset, keynote speaker Debra DiCianna warned the requirements of "a convention not yet ratified" but, all the same, is in force presented "many challenges for shipowners both operating in the US and globally". Under the Ballast Water Management Convention (BWMC), "Complex and expensive systems need to be installed onboard ship," said DiCianna, ABS' senior environmental solutions engineer.
She believes it is only a matter of time before the outstanding 2.14% tonnage requirement is attained for the convention to be ratified. "We know flag administrations tend to announce ratifications at IMO meetings"… and the next one is in May.
Among flag administrations yet to ratify are Bahamas, China, Greece, Malta, Panama, Singapore and the UK, each alone could bring the convention into force. Argentina, Indonesia and Italy have indicated they are in the process of ratification.
As was expected it was hammered home that notwithstanding IMO's BWMC, vessels wanting to operate in US territorial waters must be fitted with BWM systems that are US Coast Guard (USCG) type approved in accordance with their implementation schedule. It was also stressed the USCG is well known for insisting on stricter test standards with a view to giving a greater confidence on the reliability of BWMS.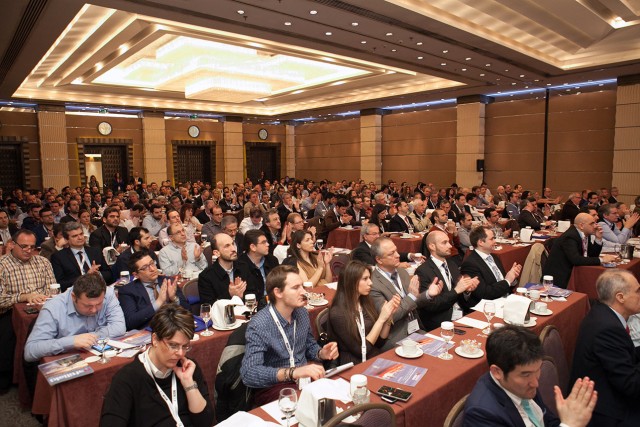 But, as Intertanko deputy md, Joe Angelo pointed out the first vendor request for USCG type approval came in just recently, in March and "the coast guard indicates it expects to have USCG approved BWMS sometime in 2015". "For proprietary reasons, the USCG cannot tell us which BWMS manufacturers are currently pursuing USCG approval," said Angelo. He added, "Intertanko contacted BWMS manufacturers to determine which of them have submitted a 'letter of intent' and 14 BWMS manufacturers informed us they intend to pursue USCG approval." There are over 50 equipment vendors out there.
But, only after the testing is completed and the results have been evaluated, will a BWMS manufacturer then submit an application to the USCG for approval of their BWMS and this will take months.
Angelo said the coast guard "understands potential installation scheduling problems once a BWM system is approved" and the coast guard "indicates they will be pragmatic in requiring when a ship calling at US ports must have a CG approved BWM system installed". But the US is not party to Imo BWM treaty, noted Angelo.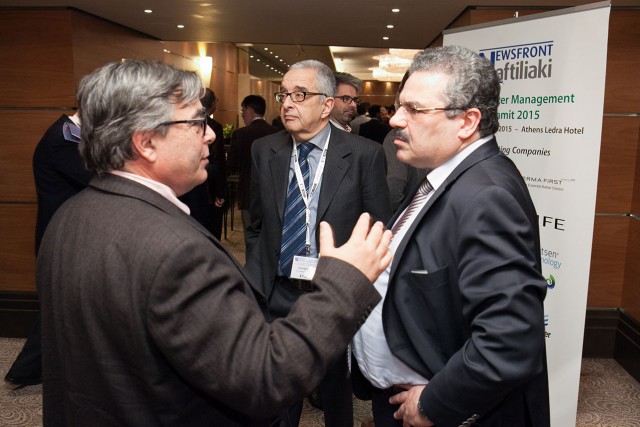 The USCG allow the use of Alternate Management System (AMS) for five years after which a ship trading in the US will require a USCG approved BWMS.
And there's the dilemma for the owner. "The ship operator must decide to either install AMS and hope it gets USCG approval or request an extension and hope there is a coast guard approved BWMS available for installation on their ship prior to the required installation date under the Imo convention," said the Intertanko man.
This particular approval requires a high level of ability and involves the passing of at least five valid and successful test repetitions at each differing levels of salinity during land-based testing; and a higher standard of sampling and analysis. USCG requirements are more onerous than those demanded by Imo and are expected to become the benchmark for BWM systems. Vendors at the summit all spoke of seeking US approval.
While it is estimated that near 2,000 ships have a system on board, experience is very limited and upgrades are common. Of the ships with a system all but a handful are newbuildings and retrofits are costly and time consuming.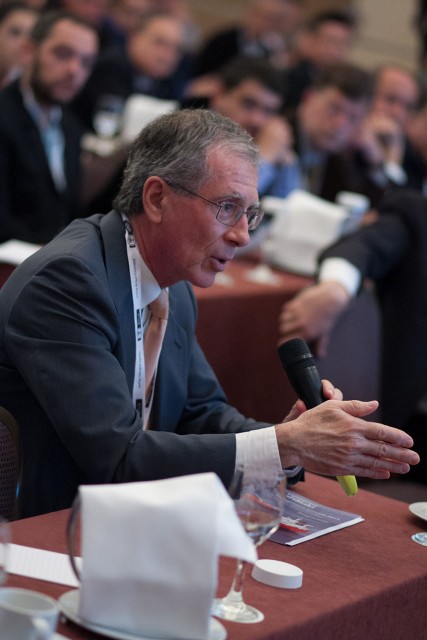 Further, as Charalampos Anastasakis, of Lloyd's Register pointed out "there is no single solution for all ships" in fact far from it. This as it may be, LR believes Piraeus will have a leading role in BWM compliance.
It was repeated time and time again that shipowners must start acting now, despite all the uncertainty. "Planning at least must be taking place," said Dino Cervetto, RINA's director of technical services. He also emphasised there must be a balance between safety and performance.
Thus risk assessment is very important. Many delegates were concerned about this issue and while it was admitted risk assessment is somewhat in its infancy, leading class societies have all developed a system and are preparing rules for "risk assessment" but, as one class man said, "these systems are generally considered as a novelty".
"Risk assessment is a classical example of the lack of harmonisation between IACS and its members," commented John Kokarakis of Bureau Veritas. Adding: "It is important there be cooperation within IACS otherwise there will be more confusion."
With equipment still in the development stage, shipowners in the audience were concerned about redundancy, especially when trading in US waters. "What is a system breaks down?" asked one delegate. Angelo explained in case of a system breakdown, the owner need not panic. In the US "you are allowed ballast water exchange, but first you must notify the USCG your system is not working". He noted however, this exchange has to take place 200 miles off the US coast.
There were some 15 equipment vendors present on panels and among delegates, covering the full range of systems.
"No system is equal," declared Knutsen Technology's director Per Lothe, whose system is "one developed by a shipowner for shipowners". The company has experience with newbuildings and retrofits. "Our aim was to avoid a filter" said Lothe.
President and director of vendor Ecochlor, Tom Perlich, said owners considering a retrofit "must start planning early as all this takes time". Ecochlor, which uses a two-step process, filtration followed by disinfection, also warned owners must "be prepared for charterer's changes in schedules, so they have to be able to adapt".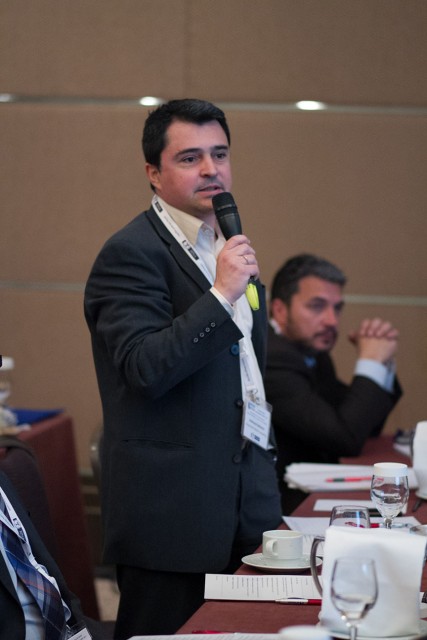 Electrocatalytic's Dimitris Tsoulos, warned retrofitting "is not easy and all parties involved need to cooperate closely".
Erma First's Konstantinos Stampedakis said a retrofit from planning to operation takes between six months and a year, something OceanSaver's Kashif Javaid agreed with this assessment, but stressed planning of the drydocking for a retrofit was key. He also said make sure the yard treats the retrofit as a repair and not a conversion "as is the yard's preference" for repairs have precedence over conversions.
Similar points were stressed by Rasmus Folso, ceo of DESMI Ocean Guard, also a shipowner-backed company, "which has developed two type-approved BWM systems" and believes "they meet USCG requirements".
Then there is the issue of system upgrades as experience is gained. Alfa Laval, a pioneer in BWM with some 600 units ordered, 440 of them on board including 25 retrofits, has already had three major upgrades.
Japan's JEF Engineering is building up experience and currently holds some 600 orders "with 156 deliveries to new and existing ships," said its Masahiro Teranishi. The company will start testing in May for US CG approval of its system based on chlorination.
One shipowner delegate was concerned the "12 systems ordered to go on our newbuildings would soon need an upgrade" and wanted to know if existing systems or upgraded systems would be installed. The vendor involved, NK Co, Ltd said the system, based on the ozonation process, would not need an upgrade and were currently in the process of "getting" US CG approval.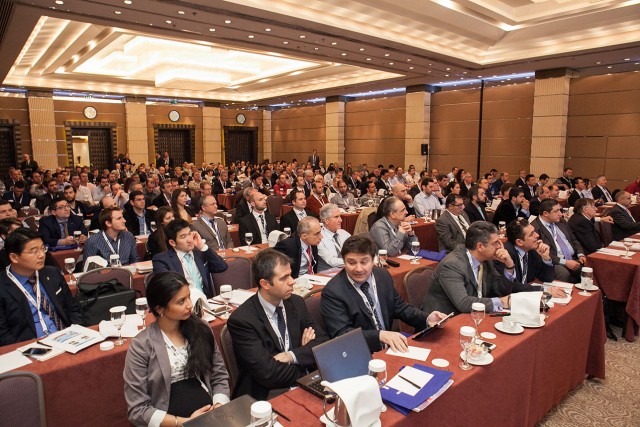 Shipowners were worried about crew training, but as most who have installed the equipment said this is not really a problem and can be handled in-house, though some vendors offer crew training backed-up by training videos and very detailed manuals.
"It reminds us of the challenges faced when double hulls were introduced, but look at what a difference they have made in protecting the environment," said Hatzigrigoris, who as md of Maran Gas Maritime, part of the Angelicoussis Group is among Greek owners with the most experience in BWM with systems on board many of its tankers and VLGCs.