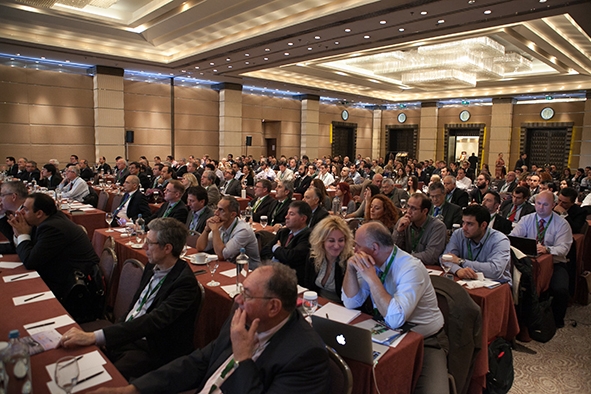 With regulatory deadlines looming, it is clear there is uncertainty among shipowners and manufacturers about the solutions being developed to meet the demands of these regulations. What is also clear is there is no way round the regulations for the ship operator, the process is going to cost a great deal of money, sound training of seagoing and ashore staff is vital,
as is planning prior to installation of equipment on board.
What is less certain is the real future of LNG as fuel and how efficient new innovative equipment is.
These are conclusions to emerge from the Greener Shipping Summit 2014 organised by NEWSFRONT / NAFTILIAKI, under the auspices of Greek shipping's powerful Marine Technical Managers Association (MARTECMA), November 11. Some 440 delegates representing 218 companies and organisations from 14 countries were registered to attend the event at the Athens Ledra Hotel, chaired by Chaired by Leo Polemis, md of Remi Shipping.
Keynote speaker, MARTECMA chairman Stavros Hatzigrigoris, md, Maran Gas Maritime the gas arm of the Angelicoussis group, said technological improvements are needed but cannot be applied in shipping in big steps. He said the education and the training of the people on board and ashore will take time in order to catch up while shipyards are not willing to change
their designs during a period in which the newbuilding market is booming.
He said: Technology in shipping should walk hand-in-hand with redundancy and reliability. Shipping assets are operated thousands of miles away from head office and are difficult to control in the same way as land installations are controlled.
Hatzigrigoris said there is the feeling the voice of the shipping industry is not reaching the international organisations and the agenda is not set by us. There is a need for Imo, our professional organisations and individual companies to get more involved in the setting of the international environment related agenda for shipping.Lobbying the political establishment is getting more critical than ever.
Monopolising the international transport by certain countries, will not help, he contended. Formulation of synergies and joint development projects is essential. The image of shipping should be improved, this is why the handling of shipping issues by professionals is needed, and the bar should be set very high for newcomers, said Hatzigrigoris.
On the escalating impact of environmental regulations, Panos Zachariadis,technical director of Atlantic Bulk Carriers Management, and a regular member of Imo committees, noted there is pressure on Imo to "act fast" and this means taking decisions before technology is able to prove itself and "without enough scientific justification". Further there is "over simplification of problems and solutions". Zachariadis, said each issue should be dealt with one at a time", otherwise conflicting regulations emerge with other major consequences.
New fuels, ship operations and the environment, new projects, ship design and operational efficiency and ballast water treatment were all discussed, during the near nine hours spent discussing ships of the future.
Not surprisingly, ballast water treatment on the eve of ratification caused much discussions, indeed lively debate. The conclusion? There is much confusion, even among the manufacturers of the BWT systems.
A lively debate was chaired by Vayia Hatziyianni, of Minerva Marine, during with five leading manufacturers, all with a different approach, agreed they were not certain what will be the final outcome of ratification. However, they say "no matter how the rules will develop"  they will be able to "meet them by tuning existing systems". Some manufacturers are already preparing for tougher standards.
Delegates were concerned that when ratification comes there will be bottlenecks caused on the manufacturing side, the class plan approval side and the ability of shipyards to meet installation deadlines.
Bernt Olav Bauer-Nilsen of Norway's Knutsen Technology, noted shipyards will have no problems "as the installation takes place during a planned drydocking". But he warned BWT installation "needs planning, planning and more planning". Tor Atle Eiken of Norway-based OceanSaver agreed and said "a riding crew should be placed onboard to get everything in order" while Hyung-Ho Lim of the South Korean company NK Co Ltd commented even when this is done installation could take 18 to 20 days.
Zachariadis pointed out "ocean currents move thousands of trillions of tons of sea water yearly, also transporting living species worldwide, which stay and multiply where conditions are favorable" before making some acceptable scientific calculations which showed ballast water carried by tankers and bulkers in cumtr of water annually is a "million times less than sea currents".
"The cost of fitting ballast water management systems is exorbitant. The end result may be minimal," said Zachariadis.
Managing energy efficiency also raised a number of issues, with the use of LNG as a fuel, the future use of distillates, engine add-ons and scrubbers were all discussed.
Stavros Niotis of class society ABS warned LNG is not an easy solution as use as a fuel is a technical challenge for class, especially when it involves a retrofit. Storage is a problem and indeed there are many technical challenges.
Hatzigrigoris revealed Maran is progressing its plan to convert a newbuilding VLCC at South Korea's Daewoo to use LNG as a fuel. He said the company has gained class approval from ABS to convert the second of four VLs ordered in July in a $390m project to gas ready status. Maran is yet to declare the design option which is estimated to cost about $200,000. He then estimated total conversion, would cost a staggering $20m about 20% of the value of the ship.
Maurizio Archetti, of Ecospray Technologies of Italy said payback time for fitting scrubbers range from one to two year depending on time spent trading in ECAs, while Michael Jeppesen, MAN diesel & Turbo felt ship owners will opt for low sulphur fuel as scrubbers are expensive.