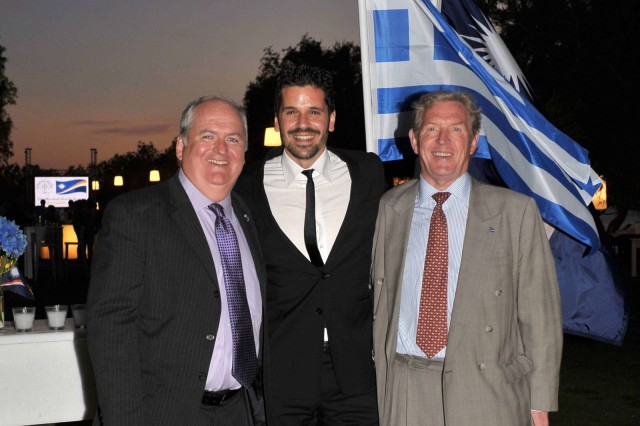 The Republic of the Marshall Islands Registry is one of the world's premier quality maritime registries that is globally recognized as a modern and efficient flag State administration. It is noted for its commitment to maritime safety, security, environmental protection, and social responsibility. The Marshall Islands Registry is the third largest in the world, surpassing 82 million gross tons in May of 2012.
International Registries, Inc. and its affiliates (IRI) provide administrative and technical support to the Republic of the Marshall Islands Maritime and Corporate Registries. Theo Xenakoudis, Managing Director of IRI's Piraeus office, commented during Posidonia week: "Greek owners continue to represent 23% of the Marshall Islands fleet in terms of gross tonnage and are the number one shipowning group in the Registry followed by the United States, Germany, Norway and Japan. Posidonia provides a venue for us to stay connected with not only our Greek clients but also industry stakeholders from around the world."
Bill Gallagher, President of IRI continued, "We held our biannual Marshall Islands Quality Council (MIQC) meeting this year during Posidonia where we were able to discuss recent initiatives such as the reorganization of our Maritime Services Group including increasing our Marine Safety and Technical personnel worldwide, the launch of an online seafarer user database, updates on IMO regulatory issues of concern and the ILO's Maritime Labour Convention, 2006."
"The Registry is committed to quality and safety as recognized by the recently released United States Coast Guard (USCG) and the Tokyo Memorandum of Understanding (MoU) 2011 Annual Reports," said John Ramage, Chief Operating Officer. As reported to the MIQC, the Republic of the Marshall Islands has maintained its Qualship 21 status for the eighth consecutive year, and continues to be white listed with the Tokyo MoU.
Unique to the Registry this year was the introduction of the Xenakoudis Excellence in Shipping Award which was unveiled Thursday night following the MIQC meeting and during the Registry's Posidonia Reception. This award, as described by Bill Gallagher, was created in recognition of Captain Constantinos "Costas" Xenakoudis' lifelong commitment to shipping. "Costas, who began his career with IRI after more than 30 years at sea, was committed to the vision of the Registry and laid the foundation for the success and growth of the Registry within the Greek Shipping Community. While he will be missed, his spirit and commitment to a life at sea will forever carry on," said Mr. Gallagher.
Capt. Xenakoudis' wife, Antonia "Tanya" Xenakoudis was presented with the Xenakoudis Lifetime Achievement Award. The award henceforth will be known as the Xenakoudis Excellence in Shipping Award in recognition of Capt. Xenakoudis. The Award will be presented to individuals and organizations in the Greek Shipping Community, who, through their leadership, make a significant contribution and commitment to shipping.