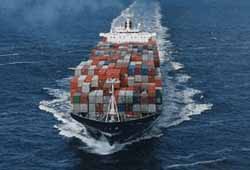 A new Handysize bulk carrier concept design – the Green Dolphin, created by the Shanghai Merchant Ship Design & Research Institute (SDARI) and development partners DNV and Wärtsilä – uses existing technologies to meet owners' needs for fuel efficiency and operational flexibility while also being ready for future environmental regulations.
"The focus has been on reducing the fuel consumption while giving owners different options to meet the future expected environmental regulations. The concept design is ready for the owners' preferred choice, whether that it is to run on heavy fuel oil using emission treatment systems or to switch to low sulphur fuels or LNG," says Hu Jin-Tao, the president of SDARI.
The Green Dolphin concept design is a five-cargo-hold CSR double-hull bulk carrier that meets current and future expected air and water emissions regulations. The design aims to be fuel-efficient and maintenance–friendly, with high operational flexibility.
"Recognising that there is more to profitable shipping than just compliance, we have consulted widely with owners and yards to ensure that Green Dolphin can be tailored to suit individual operational needs," continues Hu Jin-Tao.
Green Dolphin's main dimensions also suit the majority of the world's ports which receive Handysize bulk carriers.
The hull design has been a combined effort by SDARI and DNV. The hull is designed to provide improved overall performance at different loading conditions, speeds and sea states. The propulsion efficiency is increased through the fitting of a wake equalising duct in front of a large-diameter, slow-rotating propeller. A rudder transition bulb and rudder fins reduce the hub vortex and recover rotational losses.
The Wärtsilä two-stroke low-speed RT-flex50 main engine is Tier II compliant and can easily be retrofitted to dual-fuel engine in the near future. Multiple fuel tanks allow for strategic purchasing of heavy fuel oil, low sulphur fuel and distillates. "Design variants are available for fuel switching systems, installation of selective catalytic reduction and exhaust gas scrubbing systems and, in the near future, the use of LNG as fuel" says Giulio Tirelli, Business Development Director of Wärtsilä – Ship Power. "The concept design also includes shaft torque and exhaust gas monitoring equipment to maximise the fuel consumption optimisation possibilities while constantly monitoring emissions," he adds.
A heavy ballast condition is achieved without using a cargo hold for ballast water and the cargo holds are equipped with compressed air, power and wash water supply. Wash water holding tanks are also included. Wide hatch openings and fully electrical deck equipment improve the loading, discharge and cleaning efficiency so port turnaround time can be minimised. A ballast water treatment system is included as well as holding tanks and treatment systems for sewage and bilge water.
"We have achieved a concept design that is not only fuel efficient, safe and robust today, but is also prepared for the future, with the various design alternatives that an owner can select to comply with environmental regulations," says Michael Aasland, DNV's Business Director for Bulk Carriers.
Main particulars:
Length over all 180 m
Length between perpendiculars 177 m
Breadth 32 m
Depth 15 m
Draught, design 9.5 m
Draught, scantling 10.5 m
Deadweight, scantling 38,800 mt
Speed at design draught 14.0 kn
About SDARI
Established in 1964, Shanghai Merchant Ship Design & Research Institute (SDARI) is a ship design consultant owned by China State Shipbuilding Corporation (CSSC). SDARI has extensive experience in designing various types of ships, e.g. bulkers, container ships, tankers, multi-purpose vessels, RoRo vessels, offshore engineering vessels, etc, and has accumulated more than 800 as-built designs in the past four decades. SDARI provides the entire range of services from conceptual development to workshop drawings, and is the market leader in ship design and development in China.