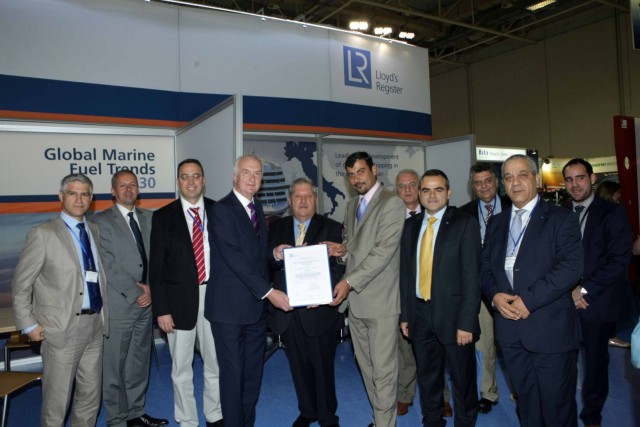 Lloyd's Register has awarded Tsakos Columbia Shipmanagement (TCM) with ISO 50001 certification attesting TCM's commitment to continuously improve its energy efficiency by using best practice for efficient energy use and conservation throughout their fleet.
The Energy Management System is applicable to shipmanagement of a fleet of oil and chemical tankers trading worldwide, incorporating the safety and pollution prevention requirements of IMO resolution A.741 (18), the ISM Code and associated office activities.
"Certification to ISO 50001 was a milestone for TCM", said Vassilis Papageorgiou, Vice Chairman of Tsakos Group at a presentation ceremony held during Posidonia last week.
Apostolos Poulovassilis, LR's Regional Marine Manager, EMEA commented, 'These standards are about the whole process of energy management which is an integral part of TCM's management systems and operating philosophy. The pleasure of handing over the certificate comes after a lot of hard work by TCM and LR in getting to this stage.'
Capt. Panagiotis Drosos, Managing Director of TCM, stated that the company'scommitment to safe, clean and efficient shipping operations – providing high quality services to the clients and being proactive in satisfying upcoming regulations, customer requirements and society's expectations – is significantly supported by the certification .
Mr. Sokratis Dimakopoulos, TCM's Deputy Managing Director, pointed out that energy management is critical to the ship operations.'Fuel cost is ourmajor cost. Improving energy efficiency reduces fuel consumption and as such reduces operating cost for TCM and its clients. In addition, being energy efficient has become a legal and industry requirement and assists in reducing the environmental impact associated with CO2 emissions from shipping operations. Therefore, certifying our energy management system in accordance with the ISO 50001 was essential in enabling the company to have a system in place to improve energy performance on a continual basis.'
TCM has previously achieved certification against a number of internationally recognised standards, among them ISO 14001 for environmental management, OHSAS 18001 for occupational health and safety and ISO 9001 for quality management. Also, the Maria Tsakos TCM Academy has recently been accredited as an Approved Training Provider by Lloyd's Register as well as certified to the BS EN ISO 9001:2008 Quality Management System Standard by Lloyd's Register Quality Assurance.
The ISO 50001 standard is a voluntary international energy management system standard that specifies the requirements for establishing, implementing, maintaining and improving an energy-management system. It offers companies a systematic approach to continually improve energy performance, including energy efficiency, use and consumption. It also provides shipping companies with a way to actively reduce their energy consumption and associated GHG emissions from ships. The standard presents a comprehensive and clear approach to smart energy use, providing companies with a framework to manage their energy consumption and, ultimately, to take advantage of renewable energy technologies.
Image (l-r): Dimitris Psaradakis, TCM Senior Technical Director, Richard Sadler, Sokratis Dimakopoulos, TCM Deputy Managing Director, Tom Boardley, Vassilis Papageorgiou, Vice Chairman of Tsakos Group, Capt. Panagiotis Drosos, TCM Managing Director, Apostolos Poulovassilis, Yannis Giannakopoulos, TCM HSQEE Marine Manager