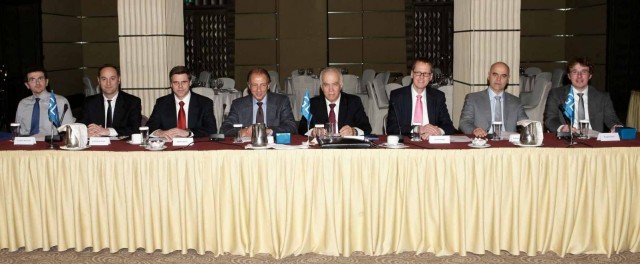 The annual GL Hellenic Technical Committee was held in Athens yesterday. The Committee brings together representatives from the Greek maritime community, to hear and discuss presentations from both GL and external experts. This year, GL's experts provided the Committee members with an update on the latest market trends and shipbuilding technology and examined some key topics for the future of the industry: LNG as ship fuel, the Ballast Water Convention and a new development from GL – route specific cargo stowage
The Committee Chairman Mr Dimitrios Korkodilos, CEO of Andriaki Shipping Co. Ltd., welcomed the participating members and guests and gave the floor to Mr. A. Reisopoulos, Area Manager of Southern Europe and Secretary to the Committee, who introduced the new Chairman, Mr Dimitrios Vastarouchas, Technical Manager and Deputy COO of Danaos Shipping Co.Ltd. Mr. Vastarouchas will succeed Mr. Dimitrios Korkodilos, after 5 years of chairing the Committee.
Mr Reisopoulos thanked Mr. Korkodilos, for his efforts and outstanding contribution as Chairman of the GL Hellenic Technical Committee for the last five years. "Under his leadership many interesting topics were discussed and lively debates took place, which have strengthened the Committee's reputation as a leading platform for information exchange on technical issues."
Jan-Olaf Probst, GL's Global Ship Type Director, showed how GL would soon be able to offer containership operators more flexibility in on-deck container stowage – without compromising safety. Based on long-term statistical data on wave conditions, GL has developed a new class notation for Route Specific Container Stowage RSCS, he said, which is due for release in May. The new scheme accounts for the fact that sea conditions vary from sea region to sea region. The point of reference for both ship and lashing system design has traditionally been the stormy North Atlantic. But in reality, vessels are deployed in many other regions during their lifetime, as well, including much calmer ones.
Benjamin Scholz, GL's Ship Type Expert for Gas Carriers, discussed the latest developments in LNG as ship fuel. He looked at the many LNG projects ongoing at GL, which examine the technology's use in vessels, the regulatory and technical requirements for safe bunkering, supply and port operations, and the potential economic and ecological benefits of LNG as ship fuel. Several new designs had received approval in principle (AiP) from GL recently, he noted, including a 13,000 TEU container vessel from IHIMU and a range of smaller container vessels from TECHNOLOG, where GL had issued an extra AiP for an extension to the LNG tank system.
One of the keys to the more widespread use of LNG in shipping is developing a regulatory framework for bunkering in ports, said Mr Schulz. As such GL has been involved in a number of research projects in the area. As part of the Clean North Sea Shipping project, GL performed safety assessments for LNG bunker vessel operation in ports and looked at safe LNG transfer, bunker stations and the compatibility of the involved systems as part of the BunGas R&D project. As well, GL has undertaken a study on behalf of German Ministry of Transport to develop a draft safety guidance for ports.
The Ballast Water Convention, adopted by the IMO in 2004, only requires the ratification of countries representing 4% of global gross tonnage to enter into force, said Evangelos Moschoulis, Plan Approval Engineer (FS Hellas). When that occurs, all trading vessels over 400GT will need to comply with the regulations. This would require intensive and detailed preparation for measures to meet the required Ballast Water Management (BWM) performance standard ("D2"), he noted. In the meantime, however, US regulations have entered into force requiring all ships calling at US ports and intending to discharge ballast water to use an approved ballast water treatment (BWT) system.
Mr Moschoulis looked at some of the BWT systems on the market today and the approval system for the systems. Choosing an appropriate system was not as simple as it might appear he suggested, with the installation, ship type, route, maintenance costs and energy consumption of the system all having to be taken into account. What the future would hold for the Ballast Water Convention and how owners would comply was uncertain, Mr Moschoulis noted. Some 68000 vessels would have to fit a BWT system before the end of the decade, under the current implementation regime, a huge technical and financial challenge. The BWT systems themselves were also largely unproven in practice, he said, leading to a potential gap between the regulations and the technology available for implementation.
GL has updated its "Instructions to Surveyors" and the list of survey items for BWMS has been finalised. As well, GL published a model booklet on effective ballast water management in 2011. Presently GL reviews BWT documents based on its existing rules and the BWM Convention as amended. GL has also already approved several BWMS from various manufacturers for use in both retrofits and newbuilt vessels, for different ship types.
After the presentations and a final discussion session, the lively conversation continued during a dinner reception with participants and members of the press.