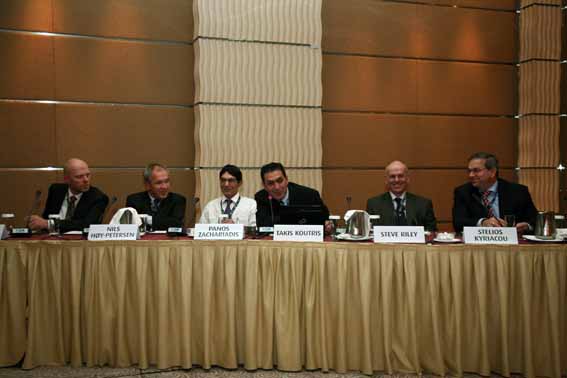 A Newsfront / Naftiliaki event under the auspices of martecma
facts should drive search for a more eco-friendly shipping industry
With shipping's operational and technical sides struggling to meet pending deadlines, George Gratsos, president of the Hellenic Chamber of Shipping, has called on regulators to act "on facts not feelings."
"Shipping reacts to cost inputs and profitability criteria. To improve shipping's already good environmental performance we must think clearly, free of ideological constraints and avoid meaningless, unnecessary complications," Gratsos told the Greener Shipping Summit held at the Ledra Marriott Hotel, Athens, November 13.
He said the laws of nature, "are well thought through and consistent" while man made regulations are not as inspired, and "often create more problems than they solve despite the fact knowledge and experience is ever expanding."
Organised by Naftiliaki under the auspices of Greece's marine technical directors association (MARTECMA) the summit, with had some 270 registered delegates representing the technical prowess of 150 different entities from 10 countries, spent eight hours debating and discussing the progress being made to not only ensure ship operation is more efficient and eco-friendly but that ships are still tradeable.
The EEDI — Energy Efficiency Design Index — which has the purpose to promote the design of energy efficient ships drew a lot of discussion. But as Gratsos, and a number of other speakers pointed out, as formulated, in the words of Gratsos, "all it will succeed in doing will be to build ships travelling at World War II speeds".
"This will increase transit time from Brazil to China from about 34.5 days at 13.5kn to about 49 days at 9.5kn. Crews will suffer, interest and inventory costs will rise, more ships will be built and market fluctuations will be more violent, for lack of the elasticity derived from being able to steam through a greater speed range," said Gratsos.
Gratsos went on: "Only bureaucrats and others with an interest in clouding the issue are satisfied with an EEDI based on 75% MCR at an unspecified speed. If this convoluted thinking is to prevail, then minimum power requirements should be established for each ship. This eventuality would unfortunately add complications and uncertainty. It will also require simulations to make meaningful comparisons between ships."
Through interaction between industry leaders, class societies, equipment manufacturers ways of how best to tackle pending legislation, CO2 emissions, BWT, CSR, and indeed ship design and asset management were covered. The changing bunker market — distillates, scrubbers and the impact all have on the operation of ships and the role of the crew and the burden created for the industry which is trying to attract young people were all issues of concern.
At the end of the day, it was agreed the shipping industry does little to promote what it is doing and how it is doing it. "To avoid misguided regulatory measures it requires the industry to effectively address the problem of a symmetry of information among decision makers concerning its true characteristics," said John Tzoannos, former secretary general of the Merchant Marine ministry.
"Only a few people outside the industry are aware of its achievements. More efforts to familiarise the general public of the positive aspects of maritime activity is need, rather than trying to distract politicians from focusing on shipping," said Tzoannos.
Indeed, as summit chairman, Takis Koutris, pointed out the enhanced environmental awareness of the industry, and particularly ship managers, has again demonstrated at this event attended by shipping people. Koutris, chairman of MARTECMA, noted the summit concluded the "marine industry is definitely an environmental friendly industry, particularly compared with the other modes of transportation". However, he noted "it was also realised this message should be communicated to the general society in a more effective manner". As was pointed out from the floor "shipping has a good story to tell". It was generally agreed, the industry needs to be more transparent in its dealings, and now is the time to go out and become more active in telling the story of shipping.
Another delegate noted that since the "advent of the shipping IPO more people have become interested in the maritime industry and want to know about it". "Shipping is a conservative industry, but it has no need to hide," was one comment made.
It was also highlighted that class societies should now look at the business in a more holistic approach, to provide a better service to the industry in the middle of a regulatory storm. Koutris, called on class societies "to adopt practical and compatible rules, involve ship managers at the early stage of rule making, or amending, or implementing, and then use the class technical committees as the vehicle for this pro-active approach".
This as it may be, the summit also revealed there are many ifs, buts and hows still to be dealt with by those who do know about the sea transportation industry.