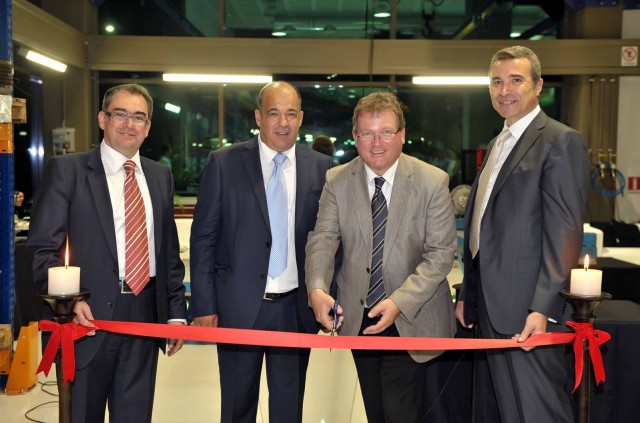 ABB Turbocharging held an inauguration ceremony for its newly revamped and modernized Turbocharging Service Station.
ABB Turbocharging held an inauguration ceremony for its newly revamped and modernized Turbocharging Service Station. ABB decided to revamp and upgrade its Turbocharging Service Station with the aim to increase its service capability and to upgrade the facilities that houses its service engineers. This investment is a commitment to ABB customers for providing first class service and support in Greece.
The layout design has been improved in order to achieve higher efficiency and service effectiveness. With advanced facilities, now the fully renovated station is able to better satisfy customer needs and deliver top quality services with the highest availability of turbochargers, Original Parts and Original Service at any time. Bringing higher standards of turbocharging service to the region enabled it to quickly establish itself and build a solid customer base. John Smyrneos, Local Business Unit Manager of ABB Turbocharging in Greece and Cyprus stated "Our long presence in the market has shown that, thanks to our competent  and well-trained staff, we can meet any challenge and stand up to competition. Being fully aware of the difficult economic conditions we are facing, we are able to continue our work even more powerfully and feel stronger the challenge to achieve this goal".
More than 70 customers from the market of – ship owners, repair yards, engine builders, power plants – attended the inauguration ceremony and visited the new facility. They were deeply impressed by ABB Turbocharging's state-of-the-art facility and advanced technological edge and showed their confidence in future cooperation. "To all our customers here in Skaramagkas I would like to say, look upon these premises as our investment in your performance – as our way of showing we are committed to being the premier service provider here and for you.  We invest in improving, enlarging and modernizing our service network through new stations and enlarged service points – just like this one." said Rolf Schweizer, Head of Service Business, ABB Turbo Systems in Baden.
ABB started the operation of the turbocharging service in 1971. ABB Turbocharging Service Station in Greece has moved to different locations as it was growing over the years ending to be one of the largest in ABB's network. The station provides premier turbocharging services for influential marine and power clienteles, including all the shipping companies and ship management organizations with vessel types ranging from large container vessels to bulk carriers and ferries.
PHOTO: From left to right
John Kokotos
Local Division Manager of ABB Process Automation in Greece
John Smyrneos
Local Business Unit Manager of ABB Turbocharging in Greece and Cyprus
Rolf Schweizer
Head of Service Business of ABB Turbo Systems in Baden
Apostolos Petropoulos
ABB Country Manager in Greece and Cyprus