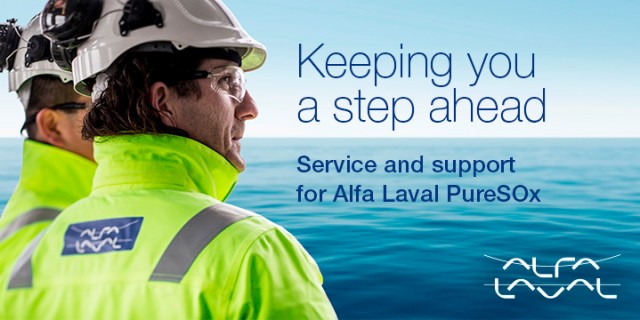 Keeping a step ahead with service for SOx scrubbers
When a SOx scrubber is installed, it becomes vital to the vessel's compliance and fuel economy. This makes choosing a scrubber more than a choice of technology. The supplier behind the scrubber must also be able to safeguard its performance – wherever the vessel sails and throughout the scrubber's lifetime.
Reach and capability matter
SOx scrubbers are relatively new to the marine market, but they are intended to last as long as the vessel. For suppliers, this means ensuring that the skills and network are in place to secure cost-effective long-term compliance.
One supplier with such skills and network is Alfa Laval, whose Alfa Laval PureSOx system receives comprehensive support. As a global marine supplier with a century-long track record, Alfa Laval has a broad offering for PureSOx that ranges from parts to cutting-edge data-driven digital services.
Keeping smooth operations simple
Parts are central to any service offering, but Alfa Laval makes working with PureSOx parts exceptionally easy. A good example is the convenient sensor exchange programme, where Alfa Laval switches out key sensors on a regular basis and takes full responsibility for their calibration and uptime.
Making it easy to keep things running well is also a focus of Alfa Laval's training programmes and e-learning, which help ensure that crews can work effectively with PureSOx. By improving crew skills in operation, maintenance and basic troubleshooting, ship owners can increase reliability and lower the scrubber's cost of ownership.
Working on board to optimize performance
Even a well-trained crew, of course, will at times require deeper support from the equipment supplier. Alfa Laval experts are on call worldwide and 24/7, but can also provide valuable planned services as part of a customized Performance Agreement.
One of those services is the Condition Audit, an onboard equipment survey that reduces the risk of unscheduled downtime by identifying issues before they become problems. During an audit, crews are able to share their observations and discuss open questions in depth with the Alfa Laval service engineer.
Connected service simplifies compliance and more
Today, in fact, Alfa Laval expertise is more available to ship owners and crews than ever. This is thanks to the digital services of PureSOx Connect, which comprises several data-driven modules.
In its most basic form, PureSOx Connect simplifies compliance by automatically generating reports that are customized for handover to local authorities. But the data can also provide clear insights into system status and performance, both on the individual vessel and fleet-wide. This allows Alfa Laval experts to remotely identify the root causes of an issue, for example, or ship owners to benchmark and optimize the PureSOx systems across their fleet.
With these possibilities, Alfa Laval has taken SOx scrubber service to a new level. As PureSOx Connect continues to grow, it will provide still more ways to keep PureSOx customers a step ahead.
More information about Alfa Laval PureSOx and Alfa Laval's comprehensive range of scrubber services is available here.