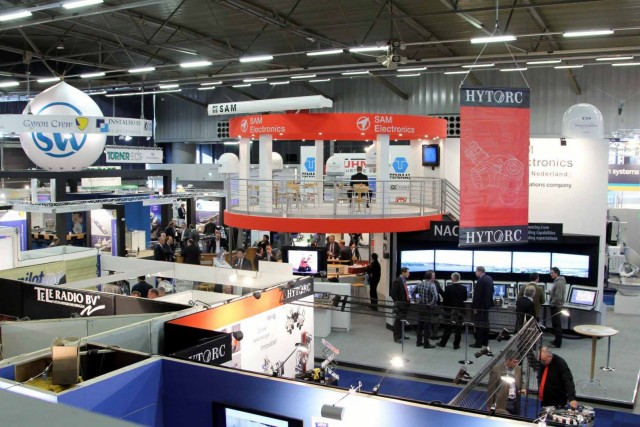 Europe's new shipbuilding and marine equipment trade organisation sees world's leading maritime event as an opportunity for dialogue on critical issues. SEA Europe Chairman Govert Hamers, who will speak at Europort's opening ceremony, offers an overview.
Despite a buffeting from scarce new ship orders and financing, Europe's maritime industry has proved resilient through recession. New environmentally-driven regulations and the critical need for improved ship energy efficiency have brought opportunities to a sector whose reach is global.
The need for a single voice to speak on behalf of the many and diverse companies engaged in Europe's marine technology and shipbuilding was acknowledged in 2012, with the emergence of SEA Europe. The trade body is the result of a merger of the European Marine Equipment Associations and the Committee of European Shipbuilding Associations.
Incoming SEA Europe Chairman Govert Hamers has already earmarked Europort 2013, the conference and exhibition to be staged November 5-8 at Ahoy Rotterdam, as an early 'red letter' event to lay out the new organisation's agenda. 
"Europort is one of a handful of 'major league' shows around the world that brings together the maritime industry's decision makers. The exhibition allows the main maritime equipment suppliers and shipbuilders to present what they have in store for the industry, while the wider conference and exhibition offers the chance to network with people who would otherwise be difficult to get to."
Mr Hamers, who recently stepped back from his role as Chief Executive of shipbuilder IHC Merwede, says the timing of the event coincides with SEA Europe's roll out in representing Europe's marine industries en bloc. "The significance of this industry to Europe as a whole needs to be heard by policy makers, shipowners, Class Societies and Flag States in a clear and unified voice from a trade body strong enough to take care of its interests."    
Europe's marine equipment suppliers are now often global concerns, competing head-on with companies whose headquarters are closer to today's shipbuilding centres, he says. "To survive, they need to retain their technical edge through research and development."   
SEA Europe has been working closely with the European Commission on refining LeaderSHIP 2020, the strategy document that looks to increase the competitiveness of European maritime technology which was endorsed at the European Competitiveness Council in May 2013. It focuses on how best to ensure a 'level playing field' globally for competition, access to finance, and the contributions that public-private partnerships can make to common goals, such as the 'towards zero accident' or the 'zero emissions' vessels.
Mr Hamers says a key issue for SEA Europe members will be ensuring that agreed regulations are enforced as scheduled. "We have seen a number of rules developed for the maritime industry, agreed and then postponed. The arguments for delays may be persuasive, but one real consequence is that they punish those who invest in meeting scheduled legislation. If we really do want a more sustainable maritime industry, for example, we need to set achievable targets and then stick to them."  
SEA Europe will come to Europort seeking dialogue on how policy makers could contribute by rewarding those willing to commit to sustainability, rather than only wielding the regulatory 'stick'. "Sustainability costs shipowners money, but few if any policies boost revenues for 'going green'. The good guys should be incentivised so that they can recover the cost of sustainability."
Following wind
The 'good guys' include investors in the maritime technology that will equip vessels built to install Europe's burgeoning offshore wind turbines, as EU policy makers back renewable energy as one vital component in future electricity grid.
"Europort is being staged shortly after the Dutch government announced new investment in offshore wind," says Mr Hamers. "To service this niche market, ships have to be flexible as well as technically advanced, and Europe's ship designers and maritime industries have plenty to offer in both respects.
"The market for vessels to harness tidal energy opportunities also offers opportunities, while the undersea mining market will take off within five years. All of these emerging markets offer opportunities for European shipbuilders and maritime technology providers."
In fact, offshore is a distinct strand within Europort 2013's over-arching 'Pioneers in Maritime Technology' theme. Mr Hamers also emphasises the critical contribution European designers and technology providers are making to the recovery of resources in Arctic waters, and highlights the way suppliers themselves are changing to meet needs set by delivering and sustaining high performance ships for harsh environments.
"Being able to deliver a good ship to an end-customer is no longer enough," he says. "Shipyards need to be 'technology integrators' for large scale offshore projects, because the ship is just one component in a process where technology is the name of the game.
 "The ability to deliver complex, high performance ships is the common denominator in strong markets such as offshore, as well as in specialised markets like the yachting and dredging sectors."
Mutual exchange
Europe's critical role in the future of the maritime industry is no better illustrated than through the issue of mutual recognition of Class Societies for the certification of marine equipment. The topic, Mr Hamers says, is "a constant" on SEA Europe's agenda, and one that he hopes will benefit from further dialogue at Europort 2013.
SEA Europe is concerned that the EC initiative, conceived to simplify certification, may in its current form act to complicate matters, after the EU Recognised Organisations (EU ROs) published their first 'progress report' on Regulation 391/2009 EC in October 2012.
While welcoming the report and steps towards mutual recognition, SEA Europe believes more discussions are needed before significant benefits can be claimed for the maritime industry. With only a few products so far specified under Tiers 1+2 of the EC scheme to date, and those mostly supplied by manufacturers from outside the EU, Mr Hamers says any endorsement from the manufacturing sector can only be "tentative".
Meanwhile, he points out that the current regulation takes no account of material certification. The EU ROs have also presented an 'Advanced Risk Model' to allow mutual recognition of products falling under a new 'safety criticality pyramid'. Again, while also welcome in principle, SEA Europe has concerns over potential associated costs for manufacturers.
"These things will be explored through open dialogue with EU ROs, a process that needs to take in wider shipping issues" says Mr Hamers. "Today, for example, several international flag states may not recognise the mutual recognition certificate. This could result in European manufacturers still having to apply for 12 EU RO certificates and a mutual recognition certificate or 12+1.
"We need to mutually recognise each other's concerns and agree on a suitable way forward. While there is no formal structure for this dialogue, we are in regular contact. I am sure the issue will be widely discussed at Europort 2013."
Other issues likely to crop up include such perennials as the need for effective intellectual property rights. "This is a problem that touches many sectors, but SEA Europe's role here is to ensure the marine industry is fully informed and to encourage original equipment manufacturers to fight for their rights wherever they can. It is imperative that the copycats find it as difficult as possible to operate."
Mr Hamers highlights the real safety risks raised by counterfeiting and believes that an international legal framework specific to marine equipment ought to be in place for this reason alone. He cites the strong response to the same challenge mounted on behalf of the aviation industry.
"SEA Europe supports its members and its members' customers on the IPR issue. Our industry will only be heard if it makes noise, and if that noise is heard by policy makers."
Going forward
Market opportunities, regulations and external factors by no means exhaust the challenges facing SEA Europe as a trade organisation, Mr Hamers says. One of the benefits of an exhibition like Europort 2013 is the opportunity it generates to promote the industry towards young people, he says. "Europe's marine industry faces a clear shortage of engineers, designers and managers," he says.   "One of the ironies of our sector today is that we continue to hear a lot about job losses in times of recession, but the fact is that this industry cannot find the people to do the jobs available."
As already noted, the marine sector has faced scarce financing opportunities over an extended period. As bankers continue to look inwards, Mr Hamers believes Europort 2013 will also offer a good opportunity to air one of SEA Europe's strategic goals – to engineer a means through which Europe's marine industry itself can take the initiative.
"Going forward, the marine industry at large should look to share the financial risks, in order to be in a position to share the rewards of investment," Mr Hamers says. "If we look at some of the huge projects underway offshore, for example, these developments are for the long term and require massive investment in terms of installations and technology. One route to success is for suppliers to take the financial risk on a project-by-project basis pre-delivery as well as post-delivery, in a way performing a task that would previously have fallen to bankers.
"But we should also seek ways to offset the risks suppliers take in research and development outlay, and there is an argument that some of that risk could be taken by the customer. If ships and equipment are custom-built, then customers and suppliers should be working together to share the risks as well as the rewards."