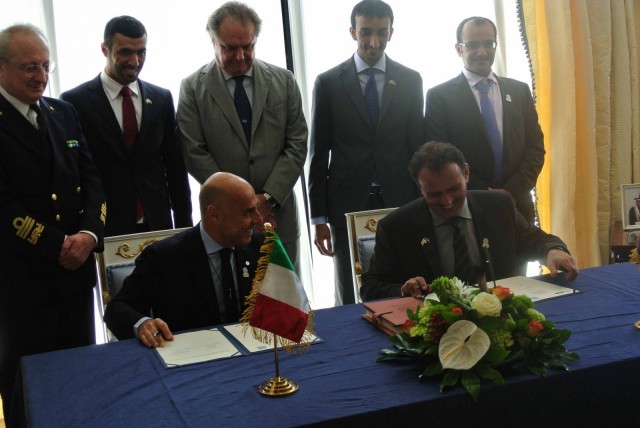 The RINA Group has entered into a framework agreement to supply certification and engineering services to UAE-based Drydocks World – Dubai (LLC). Under an MOU signed in Rome, Italy, on 9 May, Drydocks World will draw on RINA Group's expertise to deliver assistance with project management and ship classification and certification for a number of projects, including floating hotels, mega yachts, special project vessels, underwater units and warships. The MoU was signed in the presence of H.E. Ms. Datin Paduka Halimah Abdullah, Malaysian Ambassador to Rome, Mr Muhammad Al Mansoori, Second Secretary of UAE Embassy in Rome, Mr. Hamad Al Nuaimi, Diplomatic Attaché, Embassy UAE in Rome, Ms. Penprapa, Minister Plenipotentiary, Embassy of Thailand, and other dignitaries.  
H.E.Abdul Aziz Bin Nasser Alshamsi, UAE Ambassador in Romesaid, "We are so pleased on this important occasion to emphasis the tremendous progression in the bilateral relationship between the UAE and Italy during recent years in all economic and political areas. Bilateral trade has grown by 26 per cent compared to 2011, which makes the UAE Italy's first and largest trading partner among all the Arabic countries, and the most important strategic partner in the Middle East. 
"The ongoing co-operation betweenDrydocks World and RINA Group for international classification, certification and engineering services enhances the role of the UAE and the Dubai Emirate's push to be the leader for vessel classification in the Arabic, Middle and Far Eastern regions. RINA Group is recognised as an authoritative member of key international organisations such as the International Association of Classification Societies (IACS), and an important contributor to the development of new legislative standards. Drydocks World has selected RINA Group to develop vital classification services in the region.  
"Enhancing the partnership between Emirates Classification-Tasneef, a classification society specialising in the maritime sector, and the RINA Group will help further develop its ability to provide a world-class service for shipbuilding, conversion and refit, as well as ongoing military programmes. It will also enhance its capability to deliver highly sophisticated services for passenger vessels, yachts, warships, and floating offshore oil & gas units.Emirates Classification-Tasneef is also furthering its technical capability in the area of complex underwater structures that require continuous survey during construction to ensure conformation to class and statutory requirements, as it continues to develop a world-class centre for ship classification in the Middle and Far Eastern region."
H.E. Khamis Juma Buamim, Chairman of Drydocks World and Maritime World, said, "We believe in working with good partners like RINA Group to deliver excellence in ship repair, ship conversion and ship building. This agreement with RINA Group will open the way for us to enhance our services for the most complex projects.
"The MoU will provide the desired momentum in terms of sophisticated vessel repair, conversion and construction in the military sector. It will also complement our project management and technical capabilities in the high-potential yacht repair and maintenance segment as well as complex underwater structures that require continuous survey during construction to ensure conformation to class and statutory issues".
Signing the MoU in Rome, RINA Group CEO Ugo Salerno said, "There is a wide range of skills and services available across the RINA Group. RINA Services has particular expertise with complex passenger vessel newbuildings, mega yachts and warships, and D'Appolonia has long-standing experience in combat systems and electronics. Working together with Drydocks World we can help maintain and develop a world-class centre for shipbuilding, conversion and refit, especially for the most complex projects such as floating units for offshore oil & gas, cutting-edge yachts and warships."
Drydocks World has established itself as a leading and fast-growing international player in offshore and engineering, ship repair and maintenance, shipbuilding and conversion, rig building and refurbishment, FPSO/FSO conversion, offshore fabrication, maritime clusters and yacht and fleet operations. The flagship yard, Drydocks World-Dubai, is the largest and most modern facility between Europe and the Far East, and is supplemented by four other facilities in Singapore and on Batam Island, Indonesia under DDW-PaxOcean.