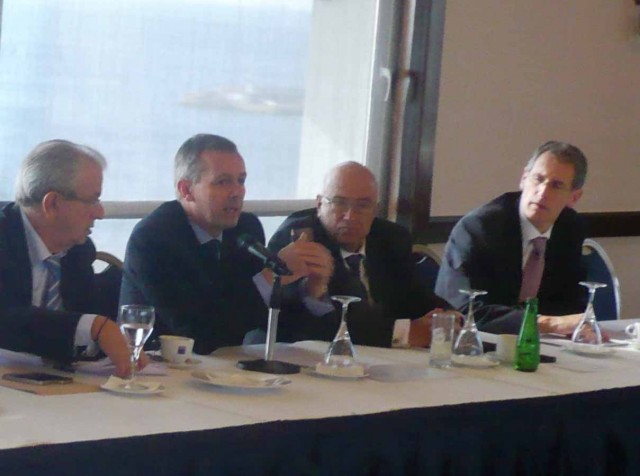 Lloyd's Register looking at ship performance and innovation with shipowners
Committee member Dr. John Coustas of Danaos Shipping presented the committee with an overview of 'Eco-Ships' and investment returns.  Dr. Coustas described the current situation in terms of technological development comparing new designs with the potential to improve performance of existing designs as well as the current offerings from Asian shipyards. A long discussion followed debating shipowners' investment options both in today's market and in future scenarios.
Committee Chairman, Mr Theodore Veniamis, who was chairing his first full Hellenic Committee meeting since his election last year, summarised the debate, stating, 'That although eco ships should not be the driver for an owner to elect in investing in newbuildings at this time – such decisions are driven by market dynamics – however, a new design's energy efficiency characteristics is going to be high on the list of owners' criteria when evaluating specifications. That is why EEDI becomes so important and regulators need to ensure that the EEDI formula caters effectively for minimum power requirements necessary in adverse weather conditions.'
Luis Benito, Lloyd's Register Global Marine Marketing Manager, presented 'A best practice service for Performance Optimisation', the Lloyd's Register service first introduced at SMM this year. The new service is intended for new designs, existing designs and existing ships, providing integrated solutions for all aspects of hull form, coatings and appendages optimisation. 'CFD modelling with Lloyd's Register is able to help owners looking for an integrated solution for the optimisation of their ships' performance', said Mr. Benito
In opening comments, Richard Sadler, Lloyd's Register CEO,had provided an overview of recent developments across the Lloyd's Register and the Group's focus on critical business infrastructure. He talked of the growth being seen in Lloyd's Register's Energy business, particularly in a new era of exploration and production of oil and gas. Lloyd's Register's new corporate structure was also described – the Group is now wholly owned by a charity, The Lloyd's Register Foundation. And he updated the committee on the relocation of Lloyd's Register's Marine business to Southampton – a process that would be complete in June 2012, when the new Lloyd's Register Group Technology Centre, on the University of Southampton's campus, is ready to be occupied. 
Lloyd's Register's Marine Director, Tom Boardley – currently Chairman of IACS – provided a global shipping and shipbuilding activity update. Mr. Boardley emphasised the fact that the world fleet exceeded 1bn grt in 2012and talked about ordering new tonnage in the context of the Energy Efficiency Design Index (EEDI). Mr. Boardley was also involved in close discussion as to how best to continue to influence the development of effective regulation for shipping. He emphasised the importance of making the most of both class and owners' expertise.
Apostolos Poulovassilis, Regional Marine Manager for Europe, Middle East & Africa, provided an update on Lloyd's Register Key Activities in Greece. 'Lloyd's Register continuously supports local clients with evermore complex regulatory issues. Recent focus has increasingly been on Environmental and Energy Efficiency matters', he said. 'Lloyd's Register was the first to provide ISO 50001 Energy Management Systems certification to a shipping company in Greece, which was also our first globally. Four more Greek companies have now been certified and another five have contracted to do so. We think this trend will now accelerate as more companies hear about the benefits being realised by the early movers.'.