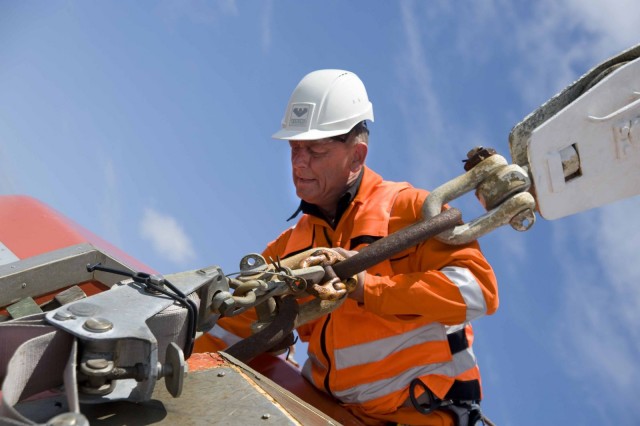 Marine safety equipment leader VIKING Life-Saving Equipment will take advantage of Nor-Shipping 2013 to help shipowners make safety equipment and servicing a smooth and problem-free experience.
Optimizing in-port efficiency
Having revolutionized the safety equipment servicing world with far-reaching, customizable agreements that have reduced unpredictable, fluctuating costs, VIKING is now focusing its attention on further fine-tuning its workflows and providing even faster response times fromservicing under the company's highly popular Shipowner Agreements.
VIKING Shipowner Agreements incorporate safety products, global servicing, single-source management and financing in a variety of fixed price structures, servicing liferafts, immersion suits and lifejackets, lifeboats, release hooks and davits, and marine firefighting equipment. The concept's flexibility is coupled with servicing and exchange options.
The VIKING stand at Nor-Shipping 2013 will provide more than a showcase for products like its offshore wind suits, work suits, design-your-own inflatable SOLAS lifejackets and VIKING's lifeboat hook retro-fitting services. It will also form a discussion platform for shipowners interested in fixed price coverage and flexibility offered by VIKING Shipowner Agreements as well as minimizing the time and effort it takes to service their safety equipment in port.
VIKING's ability to achieve the fast response times and smoothly managed servicing that shipowners are looking for, is partly due to a steadily expanding global servicing infrastructure. Today, the company has the most reliable service network of any comparable supplier. Managed service from a single point of contact and international regulatory expertise are key elements of this infrastructure.
"With the costs and difficulties of port delays receiving growing focus in the shipping industry, we're putting a lot of effort into ensuring that our shipowner customers can avoid unnecessary waiting, administrative frustrations, or unforeseen expenditure," CEO Henrik Uhd Christensen says. "Our Shipowner Agreements have been providing this level of service for some years now, but we're always ready to deal with new situations such as the impact of hook retrofit compliance, aiming to achieve the bare minimum of disruption to shipping schedules."
Products showcased at Nor-Shipping 2013
Offshore wind farm work suit
 – designed exclusively for the offshore wind industry
VIKING will be showcasing their brand new SOLAS and ISO approved offshore wind farm work suit. This suit is tailored for extended wear and designed for the most popular harness types with easy access to pockets. It offers very low friction when climbing and no snag hazards. The offshore wind farm work suit incorporates a waterproof, highly durable and breathable GORE-TEX® Pazifik™ outer fabric with a comfortable high-performing thermal lining
Constant wear immersion/anti-exposure suit
Also showcased is the PS4170 constant wear immersion/anti-exposure suit, which stands today as the most advanced suit for workers in challenging industries. Specially designed to comply with the latest SOLAS requirements and maximize protection against hypothermia and cold shock, the suit incorporates a waterproof, highly durable and breathable GORE-TEX® Pazifik™ outer fabric with a comfortable high-performing thermal lining. A host of carefully selected special features makes this a constant wear suit that excels in any weather condition and helps protect the wearer from the extremes.
Design-your-own SOLAS lifejackets
See examples of the company's design-your-own inflatable SOLAS lifejackets. Made possible by a unique modular design, VIKING customers can tailor their own solutions for specific working conditions such as those encountered in maritime environments as well as offshore wind power, offshore welding and industrial conditions.
Lifeboat hook retrofit
VIKING will also be demonstrating Nadiro's unique Drop-in-Ball™ solution at the stand and promoting a comprehensive LRRS evaluation and replacement service. Re-fitting LRRSs (lifeboat release and retrieval systems), or hook retrofit, as it is more commonly known, is a fast-growing concern for shipowners as new regulations (SOLAS regulation III/1.5) demandsystems not in compliance be replaced or upgraded between the years 2014-2019. As a global service operator, and both a Nadiro and Hatecke partner, VIKING offers certified LRRS servicing worldwide.