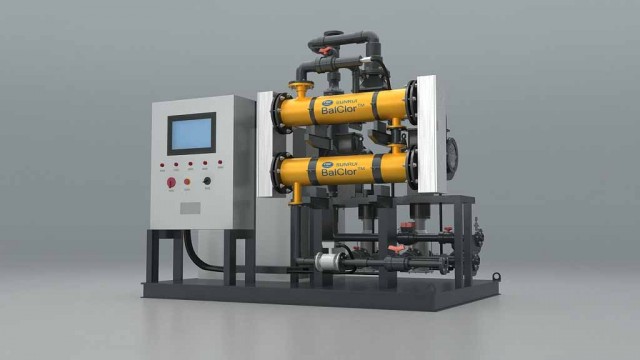 Internaftiki has recently signed an agency agreement with Sun Rui Marine Environment Engineering Co., Ltd for the promotion and sales of the Balclor Ballast Water Treatment System. Our target through our co-operation with SunRui Marine is to identify and effectively cover both new building and retrofit market needs in alignment with the impending IMO regulations.
The newly developed BalClorTM BWMS, is the latest technology, which complies with IMO D-2 standards and has been approved by DNV and CCS. The new BalClorTM uses electrolysis technology, where sodium hypochlorite solution is generated and used for ballast water disinfection.
Sun Rui Marine Environment Engineering Co., Ltd in Qingdao has developed the Ballast Water Management System (BWMS) BalClorTM from 2007 on. With the IMO Final Approval in 2010 and the CCS Type Approval in 2010, BalClorTM is the first Chinese BWMS system to get the full approvals.
Sun Rui as part of the CSIC Group has got decades of experiences in corrosion control, anti-fouling technology and water treatment as a research institute and manufacturer.
The technology used for the BWMS is based on technology used for the anti-fouling systems of the cooling water circuit of thermal power plants. With this technology the circuits and heat exchangers are disinfected, preventing growth of organisms with the resulting loss of efficiency. This technology is successfully working in more than 100 conventional and nuclear power plants all over the world in 24/7 operation.
BalClorTM BWMS is based on a 2-stage process:
1.     The ballast water is filtered in an automatic back flushing filter to filter out organisms and particles larger than 50 µm. The filter is back flushed automatically depending on the pressure loss. To assist back flushing, a drainage pump is used.
2.     From the filtered ballast water abt. 1% of the flow is extracted and passed the electrolysation unit. In this unit sodium hypochlorite (NaOCl) is created. Sodium hypochlorite is a very effective disinfectant, used for water disinfection since more than 100 years.  Reinjected into the main ballast water flow the sodium hypochlorite disinfects the ballast tanks reliably within a few hours. Continuous supervision by sensor takes care that the dosage of sodium hypochlorite is as low as possible (5ppm) to avoid any damage to coatings and surfaces while killing the unwanted germs and organisms.
The huge advantage of the system is the low energy consumption (<35kW/1000m3 at 30 PSU salinity and 20 deg. C), and this only during ballasting.
Operation costs are kept even lower due to nearly maintenance free operation. The main components (electrolyzer tubes) have a life time of 43.000 hours, proven in industrial operation.
Another advantage is that the tanks remain disinfected for up to 6 months, even while the concentration of the sodium hypochlorite is declining rapidly to below 0.1 ppm. With this low concentration, the tanks can be de-ballasted without any further treatment.
In case the measured concentration is still higher than 0.1 ppm due to short time between ballasting and de-ballasting, a neutralizer unit adds automatically a small amount of neutralizing agent (sodium thio sulfate, Na2S2O3).
The BalClorTM system can operate with very low water temperatures and very low salinity without heating or other additional equipment.  In case of frequent operation in freshwater a special freshwater module can be added.
As a benefit for the shipyard the system is easy and simple to install in new buildings or as a retrofit. Only the pre-filter have to be installed in the main ballast pipe. The other equipment can be installed modular or separately wherever suitable.
Since receiving the CCS type approval Sun Rui has got orders for more than 50 vessels of all sizes and type. Tests of the installed systems in normal operation i.e. in Japan have confirmed its efficiency.
Testing of each plant to be delivered guarantees the high quality of each BalClorTM system.
In addition to the Type Approval of CCS BalClorTM has received a Type Approval by DnV and LR. Retrofits under supervision of other classes have been performed successfully.
Sun Rui's BalClorTM is a safe, efficient and energy saving solution for the ships of tomorrow!