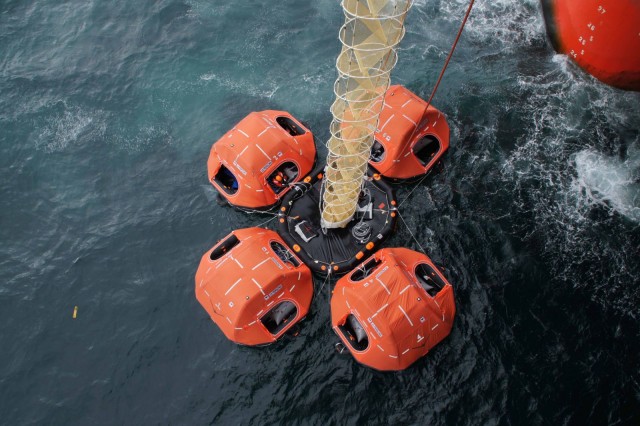 Global success in the crucial offshore market and around-the-world export growth are behind yet another solid financial report from fast-expanding VIKING Life-Saving Equipment, which joins a long list of Danish exporters that are defying today's economic difficulties.
In 2011, VIKING Life-Saving Equipment A/S, global manufacturer of safety equipment for the maritime, offshore and fire industries, continued its seemingly unstoppable and increasingly global expansion, lifting turnover and profits, and creating more than 200 new jobs.
Eight years of solid growth in a market that can be as turbulent as the seas for which its products are designed. That's the glowing picture for the privately owned, Esbjerg-based company, which has moved from humble beginnings as a manufacturer of liferafts to its position today as the leading global solution provider of marine safety products and services.
Despite difficult market conditions, VIKING managed to achieve a record turnover of DKK 1.442 billion, representing an increase of some 14% in comparison with 2010. Operating profit was DKK 120.6 million, up 23% on 2010. The average number of employees climbed from 1397 in 2010 to 1557 for the 2011 fiscal year, with year-end staff numbers at 1646.
The 2011 market was influenced by increasing competition, accompanied by several consolidations. Markets were also affected by the European debt crisis. Pressure was particularly high in the Southern European market, traditionally a stronghold of the maritime industry. Reductions were felt, too, in the number of newbuilds, although this was countered by growth in the overall number of vessels in service and firm demand for replacement and servicing – both of which are key competencies for VIKING.
Henrik Uhd Christensen, CEO of VIKING, points out "VIKING's controlled diversification within the safety industry has allowed us to adjust appropriately to changing market conditions. It is our combination of a high quality product portfolio, a unique network and customized solutions that is difficult for our competitors to match."
With the focus on being close to customers, the company is pursuing increased globalization via network expansion in all aspects of its operations. During 2011, for example, new locations and stock points were established at Port Klang, Malaysia; Kaohsiung, Taiwan; Cairo, Port Suez and Alexandria, Egypt; Mersin, Turkey; Split, Croatia; Brest, France; Santos, Brazil and Colon, Panama. In addition to network expansion, VIKING has developed several unique products and services that raise safety standards, particularly for the offshore market.
In recent years, much of the growth in the company's service revenues has been provided by VIKING's Shipowner Agreements: "Given today's volatile markets, our customers are extremely keen on servicing contracts that help them to predict the costs of servicing their safety equipment without jeopardizing any important parameters. Development in these agreements during 2012 will bolster the phenomenal success we've had with our Shipowner Agreements to date. VIKING's safety competence and 50 years of experience combined with the unique safety network and customized solutions simply make us a stronger global partner," says VIKING CEO, Henrik Uhd Christensen. Press release, March 14, 2012
Coping with such rapid and constant growth calls for on-going adjustments to the company's infrastructure – while sticking to the mission and values whose essence have made VIKING what it is today. In 2010, VIKING strengthened its internal organization, arranging global sales and services into six regions and relocating several of its production facilities. It also made an important strategic acquisition, acquiring former competitor HYGRAPHA Safety at Sea GmbH & Co. According to the company's management, the 2010 restructuring has strongly supported the 2011 results.
While today's market conditions could reasonably be expected to lead to a reduction in forecasted results for 2012, VIKING maintains a positive outlook, with growth continuing to be encouraged by positive developments in BRIK countries, in particular, assisted by further globalization and a strong offering in the all-important offshore sector.
KEY FIGURES VIKING LIFE-SAVING EQUIPMENT
MIO. DKK
2011
2010
2009
2008
2007
Net turnover
1,441.9
1,258.9
1,136.4
1,073.8
965.6
Operating profit
120.6
97.6
92.1
91.6
78.6
Profit after tax
71.4
62.0
59.3
54.9
51.6
Assets
1,104.8
939.6
823.3
856.9
799.2
Equity
493.2
445.4
377.0
316.0
307.2
Average no. of employees
1,557
1,397
1,237
1,253
1,201