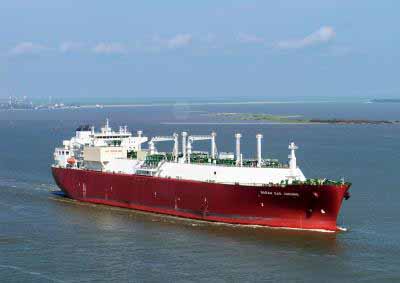 ISO 50001 accreditation attests to MTM's commitment to continuously improve its energy efficiency
Lloyd's Register has awarded Maran Tankers Management, Inc. (MTM), the oil tanker management company of the Angelicoussis Shipping Group, with ISO 50001 certification as commercial ship operators continue to search for ways to lessen their environmental impact and operating costs.
ISO 50001 is a voluntary international standard that specifies the requirements for establishing, implementing, maintaining and improving an energy-management system. It offers companies a systematic approach to continually improve energy performance, including energy efficiency, use and consumption.
"Certification to ISO 50001 was a milestone for our company," MTM Managing Director Stavros Hatzigrigoris said. "Having in place an effective and efficient energy-management system for the operation of our fleet brings real added benefits to the company and it allows us to be proactive in satisfying upcoming regulations, customer requirements and society's expectations."
Energy management has become a critical part of ship operations in part because fuel is an increasingly major cost element for any shipping company, according to Sokratis Dimakopoulos, MTM's HSQE Manager.
"Improving energy efficiency reduces fuel consumption and operating costs for MTM and its clients. In addition, being energy efficient has become a legal and industry requirement and assists in reducing the environmental impact associated with CO2 emissions from shipping operations," said Dimakopolous. "Certifying our energy-management system in accordance with the ISO 50001 standard came at the right moment for us since it assisted in formulating a structured methodology to enable us to put a system in place to improve energy performance on a continual basis."
MTM, with its 36-ship strong oil tanker fleet, is one of the largest crude oil tanker managers in the world. In addition to ISO 50001, it is also certified to the international standards ISO 14001 (environmental management) and OHSAS 18001 (health and safety).
"We have embraced an integrated health, safety, environmental and energy-management approach which has worked very well since the structure, methodology and basic contents of these management systems are harmonised to complement each other efficiently, providing key drivers for an enhanced overall business performance," Dimakopolous said.
The audit was conducted by experts from Lloyd's Register's marine and management systems divisions, the latter known in the market as 'LRQA'.
Gaining accreditation to the ISO 50001 standard is one way ship operators can answer society's demand to reduce the environmental impact of their getting goods to market, according to Apostolos Poulovassilis, Lloyd's Register's Regional Marine Manager for Europe, the Middle East and Africa.
"Energy management and the improvement of energy-efficiency levels are clearly going to be key success factors going forward, particularly for achieving compliance with new regulations and gaining a competitive advantage in an increasingly complex business environment," Poulovassilis said. "By achieving ISO 50001 certification, the management and staff of MTM have demonstrated their commitment by early implementation of management best practices. They are one of the industry's visionaries with regard to environmental and energy performance."