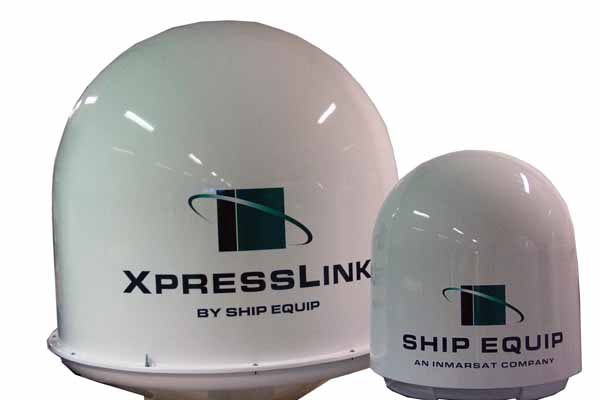 Ship Equip has signed its first contract for XpressLink, the new high-bandwidth hybrid Ku/L-band maritime broadband service from Inmarsat, with Mideast Ship Management.  The agreement covers 21 vessels of the Dubai-based ship management company.
XpressLink offers the only guaranteed upgrade path to Inmarsat's Ka-band Global Xpress™ (GX) service, planned for launch in 2013.  Global Xpress will give ships the ability to communicate at speeds of up to 50Mbps through a stabilized antenna.
"We are very pleased that Mideast Ship Management has chosen Ship Equip to provide their new communications solution," said Ship Equip CEO Ivar Nesset. "The XpressLink solution gives shipping businesses a real upgrade in capacity. It also includes an automatic upgrade to multi-megabit communication speeds in two years' time when Global Xpress launches. We are glad that the advantages of XpressLink are rapidly getting recognition and acceptance in the marketplace."
"It is evident that we will see a lot more contracts like these in the future," says Gilles A. Gillesen, Chief Sales Officer (CSO) of Ship Equip. "The market is demanding more true global coverage and more uptime. With the redundancy built into XpressLink, that is just what the customer will get. The VSAT service will handle the communication most of the time, and when out of coverage FleetBroadband using Inmarsat's L-band coverage will take over. And the fact that the XpressLink solution sells for US$ 2,999 per month including hardware means it is very competitively priced."
About Mideast Ship Management
Mideast Ship Management Ltd. is a subsidiary of NSCSA. It was established in 1997 jointly by NSCSA and Acomarit, a ship management company based in Scotland, to render quality ship management services to NSCSA and other companies. The Mideast office was set up in Dubai, which is the hub of the international market.
In 2005, NSCSA acquired full ownership of Mideast. Mideast started its operation with the management of 9 vessels. Presently, the company manages 36 ships composed of Chemical Carriers, VLCCs and RO-ROs and is expected to rise to around 50 ships by the end of 2014. NSCSA is The National Shipping Company of Saudi Arabia
http://www.nscsa.com/ship-management
About Ship Equip
Established in 1992, Ship Equip has grown steadily and in 2011 has 130 employees. In April 2011 Ship Equip become part of Inmarsat plc, the world's leading provider of global mobile satellite communications services.
Ship Equip is firmly established as the leading maritime VSAT communication provider with close to 1,000 installed SEVSAT systems and more than 1,500 TVRO systems globally. The maritime satellite communications solutions XpressLink, SEVSAT and TVRO from Ship Equip give ships cost efficient solutions for internet, telephony and television worldwide. We have extensive experience in supporting our equipment in demanding maritime conditions.
See: www.ship-equip.com  www.inmarsat.com  www.stratosglobal.com
About XpressLink
As an upgrade path to the Ka-baned Global Xpress service to be launched by Ship Equip owner Inmarsat in 2013, Ship Equip is now offering a managed service of VSAT from Ship Equip bundled with L-band FleetBroadband. The flat fee service delivers 512kbps/512kbps with a minimum guaranteed data rate of 128kbps.
 XpressLink has a suggested retail price of US$ 2,999/month for 60 months, and includes:
•                 Ship Equip Ku-band solution, with guaranteed free upgrade to Ka-band Global Xpress
•                 FleetBroadband (FB500) hardware
•                 Airtime at 512kpbs/512kbps, with a committed information rate (CIR) of 128kbps
•                 Inclusive FleetBroadband airtime where the VSAT service is not available
•                 The complete range of Ship Equip applications and support products
•                 Guaranteed double bandwidth upgrade on Global Xpress: 1Mbps/1Mbps and 256kbps CIR