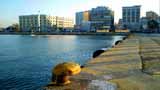 On 8th of March 2011 the COOK ISLANDS Maritime Administration has graded an exclusive accreditation to PIRAEUS MARITIME TRAINING CENTRE for the provision of courses as per STCW 78/95.
About PMTC
PMTC has been established 25 years ago as a private Marine Education Centre.
Now PMTC is providing training courses to seafarers according to the regulations of the International Convention STCW 78/95, in an own building which fulfils the specification as an Educational building and the national requirements for health and safety of the trainees.
This training centre has been approved by Panama, Liberia, Marshall Islands and now exclusively by Cook Islands Maritime Administration for the provision of courses as per STCW 78/95. It is also certified by Bureau Veritas according to the standard of ISO 9001:2008 for the provision of training as per STCW 78/95.
The instructors are Masters, Chief Engineers former Radio Operators and Engineers experts in the Marine field graduated from Universities.
The basic courses that are provided with the use of simulator by this Centre are: Bridge Resource Management/Ship Handling, Engine Room Resource Management, Liquid Cargo Handling, ECDIS, RADAR ARPA and GMDSS.
For any further information you can also visit our website www.sranis.gr or you can contact by e-mail to pmtcrani@otenet.gr.
About Maritime Cook Islands
Geography
The Cook Islands consist of 15 islands scattered over some 2 million square kilometres of the Pacific Ocean. They lie in the centre of the Polynesian Triangle, flanked to the west by the Kingdom of Tonga and the Samoa's and to the east by Tahiti and the islands of French Polynesia. The capital island of Rarotonga, lies directly south of Hawaii and is the same distance south of the equator as Hawaii is north. The Cook Islands is just to the east of the International Date Line and is ten hours behind Greenwich Mean Time.
Maritime Administration
Maritime Cook Islands is building a world class Open Register for Ships and Yachts from Cook Islands, using internet technology.
Maritime Cook Islands' goal is to become the flag of choice for Quality Classed Tonnage and Super Yachts.
In pursuit of this goal, Maritime Cook Islands has over the past 4 years:
Signed into law a new suite of Maritime Legislation – the Cook Islands Ship Registration Act 2007 and the Maritime Transport Act 2008 which both provide for Rule making to enable Cook Islands to simply and quickly keep up to date with changes to international requirements.
Became and IMO Member State and appointed Captain Ian Finley as the Ambassador and Permanent Representative to the IMO where his independence, experience and expertise is highly valued by the secretariat.
Signed up to all of the major IMO Conventions
Gave full and complete effect to compliance with implementation to STCW 78/95
Entered into formal agreements with the IACS Classification Societies and other selected Societies in case by case.
Granted to PIRAEUS MARITIME TRAINING CENTRE an exclusive accreditation for the provision of STCW 78/95 courses on behalf of this Administration.
Developed a Quality Management System which is Telarc registered as being ISO 9001: 2008 certified.  This system is designed to be as simple and user friendly as possible whilst still ensuring that Ships flying the Cook Islands Flag are in compliance and carry all the necessary certificates.
Developed the Cook Islands Online Registry Environment (CIORE) – the web enabled Ship Register, which can be used by our network to find and update information about Cook Islands registered ships and yachts, process applications and generate and issue certificates.  This means that applications can be processed from anywhere in the world 24 hours a day 365 days a year.
Recruited and inducted a network of experienced maritime professionals to act as Deputy Registrars and Agents in the major Ship Owning centers of the world. Mr Efthimios Liberopoulos has been recruited and inducted as Deputy Registrar in Greece. His contact particulars are Address: 210 Laskaridou Street, Kallithea, Athens 17675, Greece, Tel: +302109561103, Fax: +302109561103: E-mail: liberoservices@yahoo.gr
Maritime Cook Islands is now positioned to offer responsible ship owners exceptional service.