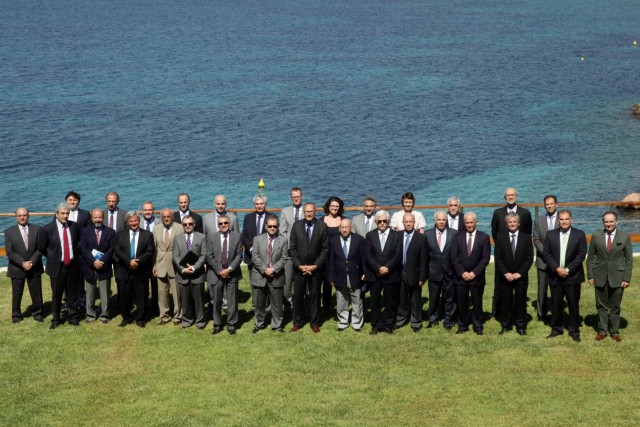 The annual Hellas Committee of Germanischer Lloyd SE (GL) held in Athens today, focused on the recently announced DNV GL merger, challenges of the maritime industry and how costs in shipping can be controlled.
Erik van der Noordaa, DNV GL's President of Business Area Maritime gave an update on the merger and highlighted that from now on DNV GL can offer an even broader range of services, a more effective network, more R&D activities and an even better set up to its maritime customers worldwide. He explained the complementary nature of the ships in operations of both legacy societies. While DNV is strong in tankers, LNG/LPG, special purpose vessels, cruise ships and offshore vessels, GL is a well-recognised classification society for container ships and multi-purpose vessels. With its combined global presence, expert knowledge and its extended network of offices, DNV GL will be even closer to its customers to meet the industry's needs.
Mr Christian von Oldershausen, CCO at GL, stated that he sees a comparable high volatility in market projections on global and regional trades. In general, he said, deliveries had been still considerable in 2012. According to market analysts, the industry will see a delivery dip in 2015-2016, followed by a recovery from 2017 onwards. Mr von Oldershausen also gave a forecast of dry-docking capacity and explained results of the best practice ship management study. In this study, the classification society asked 100 shipping companies: What are the areas you are working on to improve your business? And what have you seen in other companies you consider as "best practice"?
"Enhancing performance. Control costs in Shipping" was the title of the presentation of Mr Jan-Olaf Probst, Global Ship Type Director at GL. He stated that it is important to increase the performance of existing vessels. High bunker costs require from ship owners countermeasures to control and reduce costs. Every ship is different. What is effective for a container ship may not be suitable for a tanker vessel and vice versa. In turn, some measures are quickly implemented and others are more complicated. Some require dry docking and may be completed with class renewal, and others are solutions that could be implemented at any time.
Mr Probst summarized various retrofit solutions and presented an overview which can guide ship owners in the right direction respectively give the foundation of internal discussions about countermeasures.
Mr Athanasios Reisopoulos, Vice President, Area Manager for Southern Europe, gave a presentation on the topic: "Classification Societies: Present and Future". From his perspective, class will retain its unique role in the industry acting as a bridge between regulators and ship owners. The future of class societies will largely be depend on maintaining a high level of quality and technical expertise in its service and investing in research and development. He believes that class societies will even more support the IMO and policymakers during discussions and in the development of new regulations to ensure that technical measures are achievable, practical and sustainable in financial and operational terms.
photo from the panel